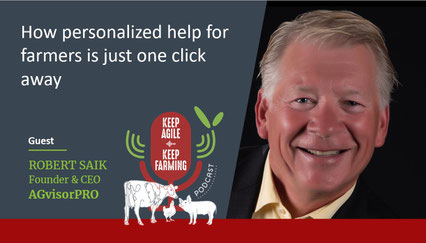 Keeping agile sometimes just means knowing who to ask for advice to take you to the next level or tackle a challenge you are facing. In this episode of the Keep Agile Keep Farming podcast we pick the futuristic brain of Robert Saik, Founder and CEO of AGvisorPRO. A connectivity solution designed to help agriculture get to a higher level of confidence and sustainability. Rob has been hailed an agricultural visionary on hot topics in global food production and we wanted to know which technologies will be driving the capacity of agriculture to adapt to the needs of our world in a crisis and to a rapidly growing world populations in a sustainable way.
Tune into episode 8 below and find out how easy it is for farmers to get advice at the very moment they need it at a highly personalized level with AGvisorPro. Listen to what Rob had to say about the latest current affairs and impact on the future of agriculture. 
Watch the trailer to episode 8 of Keep Agile Keep Farming
Rob is passionate about increasing the understanding of people around the science of agriculture.  He points out: " To ensure infinite sustainability, agriculture must learn from the past and embrace the technologies of the future." Rob always dreamed of a system that would deliver unbiased advice to farmers and that spreads knowledge and wisdom within the farming community.  AGvisorPRO is helping to provide instantaneous connectivity between farmers and advisors.
Rob believes: "The ability of farmers to have a network, that is expanding all the time beyond their local region and people they regularly associate with is very important. It is those networks of newly expanding expertise that will give farmers the confidence to make changes on their farm that they would like to make."
Related article: The power of resilience and agility for farmers
About Robert Saik
Robert Saik is an outspoken champion of agriculture,  professional agriculture consultant and serial entrepreneur based in Canada. Robert has leveraged his strengths to  help move agriculture forward over the past 40 years and founded over 15 companies. The latest company he founded is AgvisorPro, a connectivity and resource platform. Rob is the author of the book Food 5.0 - How we feed the future and was awarded Canadian Agri-Marketer of the Year in 2016.   
Find out more about AGvisorPRO