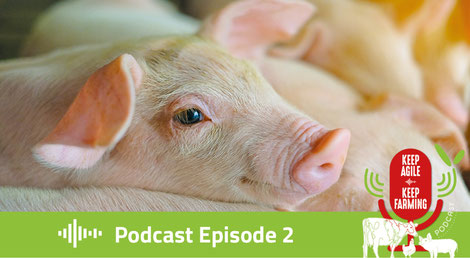 Imagine helping to save pigs' and human lives from your home office and work more efficiently as a team.  The good news is there is a solution available that enables pork producers and swine veterinarians to recognize and respond to pig health issues remotely and in real time. Tune in to the second episode of the Keep Agile Keep Farming Podcast and listen to the chat with the founder and CEO of the company who developed this solution.
One important ability for pig producers to keep agile is being able to identify and respond to health issues quickly to save profits and pigs' lives. Chris Bomgaars, who grew up pig farming in Iowa, is now the CEO of EveryPig, who developed a platform for pig producers and veterinarians, which enables them to share information in real time and work together as a team even on a remote basis.
"Pig farming in Iowa inspired me to find solutions for recognizing and responding to pig health issues faster"  - Chris Bomgaars
Listen to Episode 2 - Smart way to keep on top of pig health and antibiotics
With the help of the app pig producers can digitize daily pig records on their smart phones and upload them to the EveryPig telehealth platform within seconds, where others of their pig production team have immediate access to the data and can also comment on actions to take. On top of that it allows for images to be shared that veterinarians can then use to diagnose health problems without having to set foot onto the farm.
In times of African Swine Fever virus and a Corona virus pandemic this is a much welcomed tool in the pig industry, because there is one thing that these two health threats have in common: containment is a key measure to prevent the spread of the viruses. Plus preventing the spread of the viruses is crucial because there is no vaccine or treatment available for either of them to date.
The control and eradication of African Swine Fever in pig production still relies on rapid detection in the field followed by the application of strict sanitary measures. It also requires the containment of pigs to not allow contact with pigs from other farms and no contact between farm staff and external pigs. 
Currently the Coronavirus Covid 19 enforces very similar measures on humans all over the world, making stay at home, self-isolation and working from home the new norm. As a result there is now a growing need in both pig production and human health care for telemedicine. In other words we need to be able to care for pigs and humans remotely to help reduce the spread of the viruses.
The EveryPig platform is enabling telehealth for pigs, where swine veterinarians can identify and respond to pig health issues remotely
Stay home, stay safe and most of all stay connected to kill two viruses with one stone.