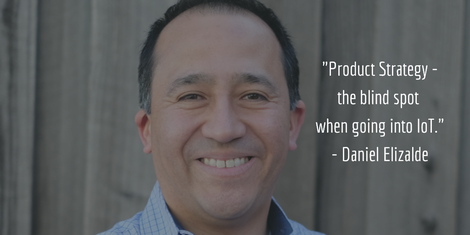 Daniel Elizalde, IoT influencer and product management expert, shares his view on how the Internet of Everything is changing the product management role and landscape in an interview.
It takes courage to adopt the exciting new technologies and opportunities rapidly evolving with the Internet of Everything (IoE). But most of all, IoE takes strategy from product managers to really create value at the customer level.
IoE is fascinating, hip and cool and many companies are quick to jump onto the bandwagon of taking on IoT/IoE to launch new product solutions. "Unfortunately, they often fail to see if IoT, in their individual case, really provides a solution with value before it is too late. The most common reason is, because they don't start with a clear product strategy" says Daniel Elizalde. He calls it "The blind spot that companies don't see, when going into IoT." It is also the title of a new course that he is teaching at Stanford University.
This is where product management can really make a difference, provided it is prepared and empowered to do what it takes to ensure value through IoE at the customer level. Daniel sees two reasons for product managers to step up and embrace the Internet of Everything:
" 1) IoE opens doors to add new value to customers and solve customer problems in a way we never could before. This is because it provides us with data from the real world and real time into applications. Take a company that is selling trucks as an example. Previously the truck was history to them once they sold it. They never found out what happened with it once it was out of the door with the customer. But with IoE the company can continue to gather information about the performance of the truck and how the customer is using it.  This enables the ability to create new offerings to the customer and troubleshoot to provide a better service and customer experience. 
2) IoE is here to stay. It is not just a fad. The world is turning in that direction. So, product managers unwilling to learn about and embrace the Internet of Everything risk becoming obsolete, because they are missing the opportunity to be able to add more value to customers."
Having said that, it does require certain changes to the role of product management within organizations, where it sits within the structure of organizations, as well as in the approach of product managers to their responsibility and scope of duties.
Daniel Elizalde points out: "Finally product management is becoming more strategic. In the past it was a much more tactical role. However, technology has evolved to make it much easier and cheaper to build solutions and at a much greater speed. Whilst the technical challenges are becoming less, product managers are facing increasing strategic challenges.  Product management with IoE is an extension to general product management, but the scope is much bigger. It is about understanding how to fit many different pieces together to bring value to the customer. Having to take things like risk, privacy, trust and policy into consideration, also means dealing with more teams and stakeholders."
Good product strategies require a certain skill set and characteristics in the product manager. However, it is also demanding a different mind-set from companies wanting to deploy IoT technologies.  Daniel Elizalde talks from his experience:" Big companies often want to go into IoT with big company processes, which is not conducive when it comes to IoT technologies. It requires more of a start-up innovation mentality. Therefore, they need to empower a product management organization to work like a start-up or create innovative groups, separated from the traditional processes of the company. Ideally product management within these newly formed product organizations should have a link or directly report into the C-level suite or CEO."
Conclusion
Product Management is the function in organizations with the biggest impact on the success or failure of creating value from IoT for customers. It means that product management must evolve with the demands of IoT for a bigger scope to its function. To fully exploit the potential for IoT in terms of creating real value to customers, it will take new thinking about the actual role and place of product management within organizations. Most of all it takes a strategic mind set right from the idea until the launch of the finished product solution and beyond. In the era of the Internet of Everything, key to building the right thing is the right product strategy.
Also read my blog article 2019 resolution for product managers
About Daniel Elizalde
As one of the top IoT influencers mentioned in 2018 (Harner 2018 and Klubnikin 2018), Daniel Elizalde's goal is to provide a real-world guide to IoT product management. Daniel has a background in product management and software engineering with 20 years of commercial experience, which today he is applying to his consultancy and teaching work. He advises top IoT companies around the world. His in-person courses at Stanford University are in high demand with students at Stanford Continuing Studies. On top of that Daniel is offering the first IoT Product Manager Certificate program as an online training course.