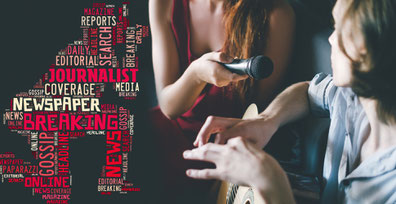 Anybody considering a career as a freelance journalist should know the difference. There is writing and then there is writing for journalism. What is exciting about journalism, is that it really is all about people. Freelance journalists and editors comment on what it takes to be a wanted freelance journalist.
image source: shutterstok
by Gwendolyn Jones
People are your sources and provide the flavour and originality to your piece. So, while your writing skills will help to bring everything on paper, the interest you show in people and their stories as well as your skill to bring it out of them is what really determines the quality of your work.
Unique selling point (USP) of a journalist
Nick Alatti, tutor at the London School of Journalism and freelance journalist says: 
"It's very important to source your work because it's about finding key people from the issue you are writing about who can add value to your piece. A journalist should never pass themselves off as an expert. They must always be balanced, impartial and objective and allow their interviewees to make the salient points. 
"Other qualities they need are good research skills, great interview technique and the ability to find their way around social media sites. A journalist must always be prepared to engage with people rather than write from afar in splendid isolation."
He is passionate about journalism and freelanced for a large variety of publications including the Guardian, Sunday Express, the Mail on Sunday, New magazine and Fresh. Nick emphasizes: "If you want to be a writer, write a book. If you want to be a journalist, engage with people. I guess that is what distinguishes us from writers. A writer sees the world through their eyes; a journalist sees the world through the eyes of others. What is more, an editor is not really interested if someone can write like Ernest Hemingway, they are more concerned about what and whom the reporter has access to."
What editors want from freelance journalists
Just like a great sales person does not win deals because he has the gift of the gab, a great freelance journalist is not about talking editors into publishing their work.  It is a lot more about listening to customers/editors and understanding their needs, knowing your market/audience and building good relationships. 
Initiative by the freelance journalist is important to Vincent ter Beek, editor of Pig Progress by Proagrica: "Suggest ideas - in practice 9 out of 10 freelance articles I publish were the initiative of the freelancer. If they don't ring the bell, I will probably compose the magazine of other materials I have at hand."
Emmy Koeleman, chief editor at All About Feed and Dairy Global magazine, emphasizes the importance of meeting deadlines on top of excellent writing skills and adds: "If I cannot trust them and have to chase them all the time, it is not a good cooperation. In addition, the price paid per word/page or article should be clear and no surprises should be sent afterwards (e.g. "this article took me longer than expected, so I charge more"). Freelancers can make my life difficult by submitting content that is not written well, too long/too short. Sometimes you edit a story and almost no relevant information is left. And bad or blurry pictures are awful."
Genuine curiosity is key to Jackie Roembke, editor of Feed Strategy by WATT, she continues to say: "I urge freelancers to accept assignments with an open mind, and even when it may seem like a dull/technical topic, dig in and find the angle that interests you. Remember, your strength is approaching a topic with a fresh set of eyes." 
How you can add value to publications 
Jackie Roembke, editor of Feed Strategy states some actionable requirements: " Writing B2B content for niche industries requires the journalist to get into the head of the target audience. Namely, how can this piece 1) help the reader better do their job, and 2) make the company more profitable? Also keep it brief (unless the assignment really requires a hefty word count) - and be creative in your presentation by breaking the information out into an easily digestible tidbits, i.e. listicles, utilize sidebars, etc. It's easy to submit a 2,000-word article, but it really showcases your abilities as a writer to produce a short, concise piece. Let's face it, it's unlikely the audience has the attention span to take on a lengthy article."
Vincent ter Beek editor of Pig Progress prioritizes getting to know the freelance journalist first: "Rather than judging the piece, I judge the journalist. The best freelance journalists tend to be eager, keen to do writing, keen to reply swiftly and keen to provide ideas. Usually, when these conditions are met, the articles they provide are OK."
"A unique / different angle to a story. This is for example important when writing farm reports. Just a summary of the technical details of a farm is not interesting, but the real story or something about what he/she does differently, can make it interesting." says Emmy Koeleman, chief editor of All About Feed and Dairy Global.
Before the plunge – take a personal reality check 
It really takes more than great writing skills to win profitable gigs from your work. So, you must be real about whether you have what it takes before you take the plunge into freelance journalism.  
Here is a checklist: 
skills to master beyond writing 
·       doing relevant research 
·       interview technique 
·       pitching 
·       listening 
·       cold calling 
·       networking skills 
·       good time management to meet deadlines 
·       business and finance skills 
·       negotiating 
·       pricing 
Journalism work involves around 40% research, 40% interview technique and 20% putting pen to paper.   
personality traits 
·       sociable to reach out to people 
·       creative 
·       great interest in people 
·       approachable 
·       trustworthy 
·       good listener 
·       relationship builder
Upgrade your skills for freelance journalism 
As a firm believer in lifelong learning and as a chartered manager I am committed to continuous personal development. Naturally, I think even if you have already been successfully publishing your work, it can never harm to further improve your skills and get the perspective of others on your work. Indeed, the most valuable part of the distance freelance journalism course I completed at the London School of Journalism, was the honest feedback and different perspective from my tutor. It helped to stretch me out of my comfort zone and gain confidence in adopting a more journalistic style to my work. 
So, I would say that if you are serious about becoming a freelance journalist, you should be serious about honing relevant skills. Actively seek the advice and feedback from others. It will help to push yourself to greater heights, try new techniques and will ultimately make the end products of your work more desirable to publish. 
Read a great article about How to get started as a freelance journalist published by journalism.co.uk.