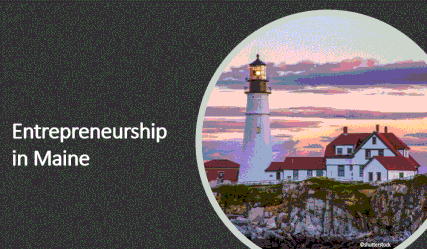 Gwendolyn Jones
Studies have shown that becoming an entrepreneur in your late career can really boost the quality of your life. Why not do this in a state ranked highly for quality of life? Find out how Maine can not only provide a great lifestyle, but also the right support and environment, to help turn the dream of your own thriving business into reality.
by Gwendolyn Jones
Published first in Mainebiz Fact Book 2018 - Doing business in Maine
Studies have shown that becoming an entrepreneur in your late career can boost your quality of life.
Transitioning to entrepreneurship in late career increases quality of life significantly more compared to staying in the same job or switching to a new organizational job, despite being associated with a lower income. Further, the number of older adults who are self-employed outweighs that of young adults. This trend is also a reality in Maine, where more than 40% of the population is 50 or older. Older Mainers represent 39% of the workforce. Of those aged 50 to 64, 16% are self-employed entrepreneurs, versus 12% for those aged 25 to 49.
How to find support
Edward Rogoff, author of "The Second Chance Revolution: Becoming Your Own Boss after 50" and dean of the LIU Brooklyn School of Business, offers this advice: "Take advantage of the help you can get for free from organizations such as SCORE and entrepreneurship centers at universities."
In addition to Portland SCORE, there is a wealth of free resources in Maine and a strong initiative to support entrepreneurship. "Maine is the most unique place I lived in so far and has many people that genuinely want you to be successful. It also has the most active group of business angels in the country," says Martha Bentley, director of innovation at the Maine Technology Institute.
"MTI programs are open to everyone, but we do find that we have quite a lot of entrepreneurs that are more seasoned folks taking advantage of them. Their deep industry experience is a real differentiator for them. Also interesting to the 50-plus age group is that the University of Maine has a center of excellence for aging and there are several local networks specific to encore entrepreneurs," she adds.
Veena Dinesh, director of business incubation at University of Maine, highlights the opportunity for those with a scalable business idea to apply for Top Gun, a program to accelerate the progress of entrepreneurs. The program concludes with a pitch contest in front of panelists that may include potential investors. "We have three entrepreneurs who are above the age of 50 in this year's class," Dinesh says. Applications for the 2019 class open in November."
University of Maine provides access to business coaching and resource centers for design, prototype development, testing, and pilot manufacturing services.
Talk to other people in Maine
"When you have an idea, talk to other people", says Michael Lessard, co-founder of WingsRealityEDU, the world's leader in the development and delivery of web-based aviation training programs and incubator tenant at the Upstart Center for Entrepreneurship in Bangor. Lessard started the business when he was 49. " Our business model would have allowed me to locate anywhere, but we chose Maine", he says. " it has a solid support system and the lifestyle really stands out."
Resource links in Maine to help you
Maine Small Business Development Center (Maine SBDC) 
Upstart Center for Entrepreneurship 
Maine Center for entrepreneurs
University of Maine business assistance