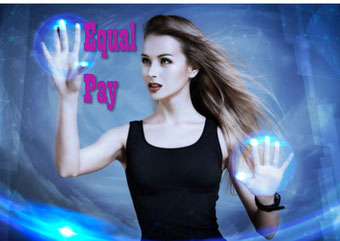 A recent report by Accenture reveals that digital technology could lead to closing the gender gap a lot quicker.
Being a woman myself and highly interested in how digital technology is changing our lives this is something I had personally not thought of before - the impact it could have on opportunities for women.
It offers greater flexibility, such that women can balance their career and life more effectively to get paid work.
Every year on the international Women's Day there is talk about the gender pay gap. Lamenting on about how unfair it is, is not helpful in my eyes. Hearing about the research by Accenture is refreshing and conducive.
I don't think it covers all the problems for women, but offers some solutions. Women need to know what is hindering them and which steps they can take to advance in pay equality.
Accenture highlights that unpaid tasks like cooking, cleaning and family care, which is the hidden pay gap, continually prevent women from closing the pay gap with men. Digital fluency, the extent to which women use digital technologies to connect, learn and work, is the most critical factor for getting paid work.
Together with a smart career strategy and more proactive immersion in STEM skills, digital fluency will narrow the gender gap.  
The digital age brings exciting developments and now we know they could be potentially a lot more empowering to women than men. I would say, let's get our hands digital.
Find out more in the Accenture report Getting to Equal 2017