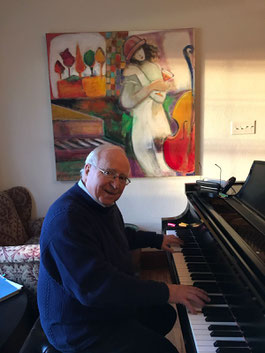 A portrait of a writer who inspires my own writing
Tony Colby sits at his piano surrounded by fascinating artwork. It is in the living room of his beautiful home in Iowa City, USA. He plays the music of Johann Sebastian Bach which sets the background to his new upcoming historical fiction book.
While music plays an important role in his book, Johann Sebastian Bach surprisingly is not the main character. What makes Tony's new book a fascinating read is to learn about the life of Anna Magdalena Bach, Johann Sebastian Bach's second wife.
Listening to the soft tones of the piano, I can picture Tony's heroine as she listens to the music her husband is composing. What must have it been like to be the wife of the now famous composer. What was she like? Why did she die in poverty? This is the story the book "The Missing Portrait" is trying to capture.
When asked what motivated him to write the historical fiction book, Tony says: "About 20 years ago I read a book on the Bach family history and discovered that Bach's wife died in poverty. I wondered why. I did a lot of research about the times the Bachs lived in. I even travelled to Leipzig Germany to find out more. Bach did not have a lot of savings and did not have a will. The estate was split between 11 people. Anna died as an "Almosen Frau".
I am curious about the title of the book. Tony smiles and explains: "My story tells the journey of a portrait of Anna, which Bach had commissioned and which goes missing after her death. It is the final tale of the Bach love story."
Tony was 14 years old when he first got interested in writing. During his premed school he took writing classes in addition to science courses. He enjoys writing. His mind likes to make up things, to connect unconnected incidences and facts, an essential key to creativity.
Tony is now a 75 year old retired doctor and still loves to write. He has a daily routine of writing, playing the piano, and he exercises 30 minutes or more a day. He explains his rigorous exercising schedule: "Studies in mice have shown that exercise is what really keeps the brain alive and working."
Looking around his living room at all the beautiful art, I want to know why a doctor like Tony is so enthusiastic about arts and music. He is a scientist by education and still very talented in playing music and writing, surely that is somewhat of a contradiction? "No", Tony says " Francois Rabelais was a doctor and writer, there are many writers who were also doctors."
Tony lives in Iowa City, a lively University Town in the Midwest. The University of Iowa has a highly ranked Medical School and it was the first university in the United States to accept creative works in writing, music and art as theses for advanced degrees. Iowa City is a UNESCO designated City of Literature.  
Despite being in a highly agricultural state in the US, Iowa City feels very liberal. It is a melting pot of different cultures with highly educated and creative people who give it an upbeat vibe.
It is a perfect environment to be creative and exchange experiences with other creative people. Tony remembers: "When I was in service with the US Marines in Vietnam I decided to become a writer. Iowa has the best writing school in the US, but I had decided to write before I came here. I wanted to write about the war and I wrote two books about it. I found Iowa City a very supportive environment for writing."
Many writers have inspired Tony including Rose Tremain, Alice Munro and James Joyce. He loves Francois Rabelais because he had such a brilliant mind and absurdist sense of humour.
Turning back to the heroine of Tony's book, Anna Magdalena Bach, I want to know how Tony thinks what would be different for Anna today compared to the world she lived in. Tony recounts that Anna was born in 1701 and died in 1760. She gave birth to 13 children. In her time opera singers happened to be among the few women who were liberated. They were like rockstars. Anna was a very talented singer. With the help of birth control, she could have become a famous opera singer.
I leave Tony's home and Iowa City filled with inspiration for my own writing and in suspense to discover where the portrait ended up in his story about Anna Magdalena Bach and her portrait. When I picture Tony at his piano, surrounded by art, my own creativity starts to flow.