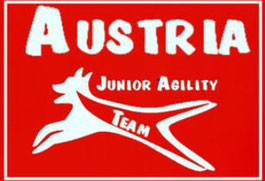 The Junior agility team Austria took part at this year's Agility European Open Junior 2016 in Cilistov, Slovakia.
The team was particularly successful in the youngest age category - children. Lea Weiß and her Sheltie dog Rose came second in the overall rating.
For the rating in Jumping Individual Juniors, again two Austrian girls ranked in the top 3: Vici Gurschler with her Malinois dog Bendix was the winner and Lena Nikou with her dog Denver came third.
This year the JEO Agility event had a high number of entries. Kids and juniors from 24 countries were present at this international event, which shows the growing international enthusiasm for this sport in youngsters. The event not only welcomed participants from Europe, but also from Canada and the USA.
Dog agility is a fantastic sport for young people as it keeps them active and teaches them how to take care of their animals in a fun learning environment. Check out great video on dog agility. 
The motto for the Austrian team sponsored with T-shirts from Aponi2b was: "Keep calm and agile", emphasizing the two skills that are certainly required by dogs and their owners in this sport.